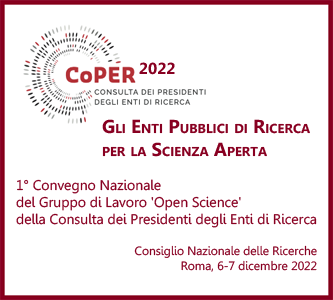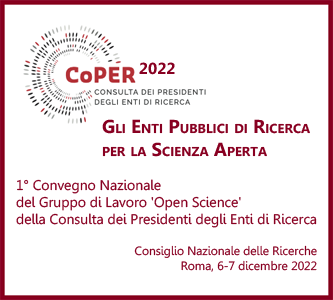 The 'Open Science' Working Group of the Italian Council of Presidents of Public Research Bodies (CoPER) is pleased to announce the National Conference "Public Research Bodies for Open Science", which will be held in Rome, in the Marconi Hall of the National Research Council of Italy, in the afternoon of 6th and in the morning of 7th December 2022.
The Conference will be divided into short presentations on all the intervention axes of the National Open Science Plan followed by moments of discussion, with the aim of laying the foundations for an operational network in the world of university and research.
For further information, please contact conper.openscience@lists.infn.it
Organisation
Organising Committee
 – Giovanni De Simone (CNR)
 – Stefano Bianco (INFN)
 – Anna Grazia Chiodetti (INGV)
 – Mario Locati (INGV)
Session Organisation
 – Emanuela Secinaro (INRIM)
 – Roberta Maggi (CNR)
 – Silvia Giannini (CNR)
 – Susanna Terracini (INDAM)
 – Francesco Lazzarini (ISPRA)
 – Pasquale Lubrano (INFN)
 – Francesca Di Donato (CNR)
 – Roberto Caso (UniTN)
 – Angela Saraò (OGS)
 – Alessandra Giorgetti (OGS)
 – Roberta Vigni (ISPRA)
 – Antonella Gasperini (INAF)
Registration
Participation, both in presence and remotely, is free but requires Registration.
Instructions for following the Conference will be communicated to registered participants.