The Cnr-Istituto di Linguistica Computazionale "Antonio Zampolli" is located within the CNR Genoa Research Area , located in the Torre di Francia, Via De Marini 6, 16149 Genoa, Italy.
Map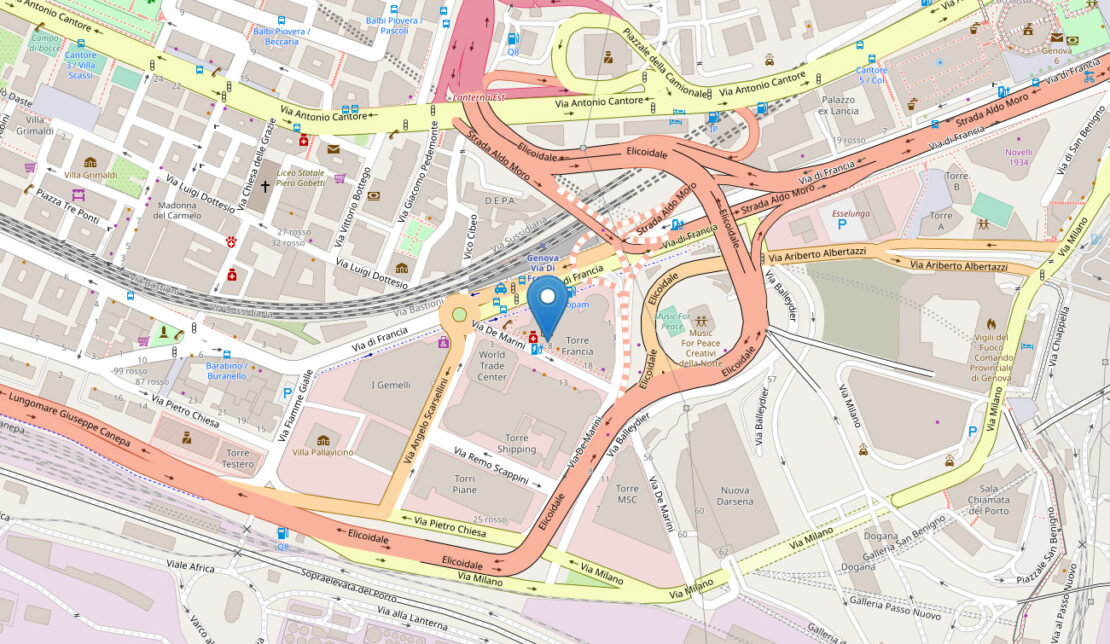 By car
From the GENOVA OVEST motorway exit, keep right and at the traffic lights turn left into Via Cantore towards the centre, go straight on to the new roundabout and turn left into Via di Francia, SAVONA, at the roundabout turn left into Via de Marini. Entrance by car from Via di Francia, for the entrance to the car park go up the ramp after the petrol station (ring and if necessary indicate "Istituto CNR ILC" followed by the contact person).
Genoa AMT Lines Map (bus, metro, train)
By bus
Bus stops of the AMT urban network in the immediate vicinity of CNR ILC Local Branch:
FRANCIA 3/STAZIONE FS (stop code 0010) for lines coming from the city centre (1, 20)
FRANCE 1/WTC (stop code 0110) for lines coming from the West (3)
By metro
Get off at the DINEGRO/METRO station (stop code MM02) and then use the bus service from the BUOZZI 2/METRO DINEGRO stop (stop code 0008, bus 1,7,20), located immediately outside the metro exit, and get off at FRANCIA 1/WTC.
By train
Get off at GENOVA PIAZZA PRINCIPE station and then use the bus service from the PRINCIPE FS stop (stop code 0433, bus 20), located immediately outside the railway station.
By plane
From the CRISTOFORO COLOMBO Airport with the VOLABUS bus service from the AEROPORTO/ARRIVI stop (stop code 1718) to the MILANO/TRAGHETTI stop (stop code 0524). Afterwards, walk about 800 m.